SIGN UP HERE TO RECEIVE NEWS AND INFORMATION FROM CADE! 
Funding Awarded for Agricultural Microenterprise Program
 Last Spring CADE collected project profiles from Otsego and Delaware County producers.

CADE demonstrated that, with grant funding, farms could scale up, retain or create jobs, or otherwise contribute to economic development in our region.

The funding has come through: both Delaware and Otsego Counties were awarded the $200,000 in micro-enterprise grants that they applied for.
FOR OTSEGO COUNTY PRODUCERS: If you are seeking more information at this time, please contact Elizabeth Horvath at Otsego County IDA (607-267-4010). The application will be available toward the end of April, beginning of May.
FOR DELAWARE COUNTY PRODUCERS: Please see the link to the press release below from the Delaware County Office of Economic Development for next steps.
Visit CADE's newsroom for full press relsease and to learn more about how to apply.
---
CREAM OF THE CROP FROM BARN TO SHOP
CADE recently concluded its dairy value added feasibility study, THE CREAM OF THE CROP FROM BARN TO SHOP. 
The study outlines the opportunities for Catskills dairy producers to access the NYC demand for Upstate NY dairy value added products.
---
Looking for a grant to

….Scale up? Create farm jobs? Buy equipment? What else?

Delaware County Economic Development  can help…

a.       Plan your project

b.      Outline your budget and gather estimates (two estimates will be required for each item in your budget)

c.       If you have a business plan, make sure it is up to date

d.      If you don't have a business plan, consider beginning one (you may not need a full plan, but an abbreviated plan would be quite helpful)

e.      You will need to be able to show financially how your business is doing currently. If your business is not "in the black", make sure your project will show how it will bring it into the black

f.        If any of the work you plan to undertake can be documented in design plans (formal or informal), or photos, it is always a great idea to include images (this can include your facility, current product, labeling, and marketing materials, etc)

For eligibility, application  and other questions, contact….

Lori Paulson:  607.746.8595
---
Lucky Dog Hub Consulting

WANT TO GET YOUR PRODUCT TO NYC VIA THE LUCKY DOG HUB AND NEED HELP GETTING STARTED?
FREE ONE-ON ONE CONSULTING AVAILABLE
The Lucky Dog Local Food Hub is currently offering no-charge, one-on-one consulting to help you determine how the Hub can best work with your farm.
To be eligible for this technical assistance, you must:
• Be a prospective or current Catskills region farmer who
plans to utilize Hub services in 2015 or 2016;
• Complete the application found here:  https://survey.zohopublic.com/zs/DjCN4s
• Agree to assist us in assessing the impacts of the provided
consulting.
Please note that consulting is on a first-come, first serve basis and available only until funding is expended.
---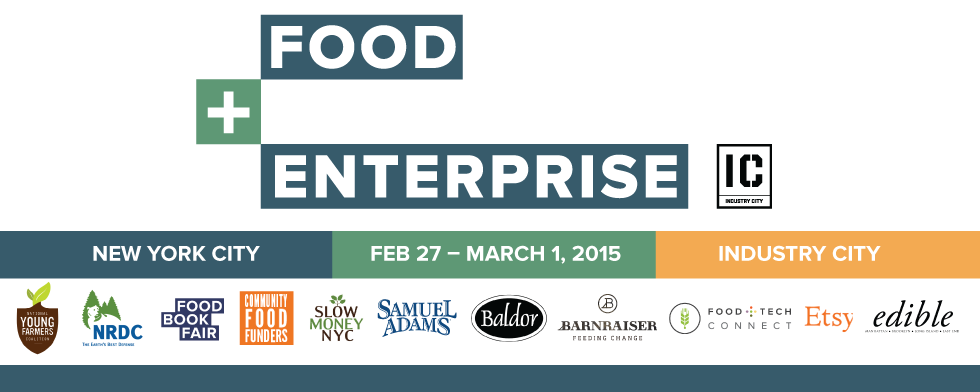 FOOD + ENTERPRISE 2015
February 27 – March 1, 2015
Industry City, Brooklyn, NY
274 36th St Brooklyn, NY 11232
Founded in 2013, FOOD + ENTERPRISE is a social impact, mission-driven event dedicated to promoting understanding and collaboration amongst multiple stakeholders – farmers, entrepreneurs, consultants, funders and investors – who aim to finance a better local food system.
Based on it's success as part of Food Book Fair – an annual festival that connects food culture and food systems – Food + Enterprise becomes it's own three-day conference in 2015.
Programming includes entrepreneurship clinics, networking, panel discussions, a pitch competition for growth-stage businesses and other events focused on growing small food businesses.
A collaboration between Food Book Fair and Slow Money NYC, Food + Enterprise is also presented in partnership with Natural Resources Defense Council.
To learn more about presenting speakers and agenda, go to our website: foodandenterprise.com!
---
Grow Your Markets "Producing For The Hub"
Farmer Workshop Tuesday December 16th
10:00 am – 12:00 pm – Lucky Dog Farm Cafe
A "Producing For The Hub" workshop will be held on Tuesday, December 16th, from 10:00 a.m. to 12:00 p.m. at Lucky Dog Farm Store & Café on Main Street in Hamden. During this workshop, producers will learn more about how to become part of the Hub's producer line-up for 2015, and the activities made possible through the Local Food Promotion Program of USDA (LFPP).
The Hub currently offers product aggregation and transportation, buyer introductions and educational workshops. With LFPP funding, the program will scale-up these offerings to encourage agricultural entrepreneurship and help local farmers expand into high-quality, high-value markets through personalized buyer and producer activities.
Activities funded by the LFPP include:
1.)   Hub Development:  Creating operational efficiencies to expand the quantity and types of products being handled by the hub as the number of engaged producers increases
2.)   Producer Development:  Facilitating quarterly "Producing For The Hub" workshops and New York City buyer tours, during which participating producers spend a day meeting prospective buyers in NYC. One-on-one consulting is also available for producers needing technical assistance to serve the Hub
For further questions, please contact:
Sonia Janiszewski, Project Manager
Phone:  914-720-1020
Email:  hub@luckydogorganic.com
---
Dairy Value-Added Production Meeting
Register TODAY!
Monday, December 8th at 11:00 am
LUNCH INCLUDED!
CADE Office – 5 Elm St. Oneonta, NY
Last December CADE hosted a meeting to discuss opportunities for value-added dairy production in order to increase farm profitability. We discussed how CADE would continue to partner with Lauren Melodia to engage in a feasibility study for local dairy value added production and accessing the enormous demand in New York City for Catskill dairy products. We're coming to the end of that feasibility study and there is a lot to share. We're hoping to get everyone back together again 11:00 am Monday December 8, 2014 at the CADE office, 5 Elm St. Oneonta NY 13820 to discuss the results of the study and strategies for moving forward.  The big take away from the study, however, is that the market is very strong for local value-added dairy products and we'd like to help you access it.
---
Farm to School and Institution Survey for NYS Producers
The "Sustaining Farm to School in New York State" pilot program is administering a survey to New York State produce growers to learn more about producers' participation in farm to school and other institutions. The survey will also gauge current needs, interests, opportunities and barriers associated with participating in farm to school and farm to institution in New York State. The results from this survey will inform our projects and ultimately assist interested growers to take advantage of institutional market demand.
If you are a produce farmer in New York State, we would greatly appreciate your time in completing this 15-minute survey!
The deadline to complete the survey is Wednesday, November 19, 2014.

---
Upcoming workshop: Beginning Women Farmers
Whole Farm Planning Program
---
 In search of new markets for local food?
Click here to learn more about the LUCKY DOG LOCAL FOOD HUB