SIGN UP HERE TO RECEIVE NEWS AND INFORMATION FROM CADE! 
---
In The News:
THE LUCKY DOG LOCAL FOOD HUB RECEIVES FUNDING
from impact investors and Delaware County Economic Development Office
TO CONNECT HIGH-QUALITY CATSKILLS PRODUCTS TO NYC BUYERS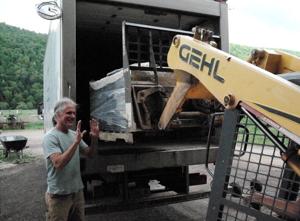 View the full article from The Daily Star.
View the video from Delaware County Economic Development.
---
Recent Dairy Producer Workshops
presented by CADE
How Do I Make it? A Workshop & Discussion for Farmers on Milk Prices & Checks
Wednesday, June 17, 2015
Cowbella Creamery Dairy Processing Hands-On Workshop
Thursday, June 18, 2015
---
GROWING GRAINS FOR FLOUR
WORKSHOP FOR FARMERS
June 19th, 2015




9:30 AM – 4 PM


Cooperative Extension 34570 State Highway 10, Hamden, NY
 Visit our Workshops page for more details.
---
WANT TO WORK ON A FARM?
Learn how to seed a row crop, milk a cow, castrate a pig.
Or weed, feed, water as needed.
Work outside. Eat Healthfully. Learn real skills.
Call us to get placed on a farm today.
Let CADE connect you to a farm in need!
Please note: CADE will not be responsible for transportation or schedules of  farm help.  We are simply connecting farm workers to farms in need. 
---
CATSKILL MOUNTAINKEEPER
CAPITAL ACCESS LOAN PROGRAM FOR FARMERS
Catskill Mountaintkeeper is currently accepting applications for the Capital Access Agricultural Loan Program…
…A farmer-friendly program that provides loans with favorable rates and terms to qualifying farmers.
Uses for the loan can include purchase of the following:
land,
animals,
equipment,
vehicles,
buildings, and
cash flow for orders in hand.
Other uses are subject to evaluation and approval by the Capital Access Agricultural Loan Program Evaluation Committee.
---
SLOPE FARM SEEKS GRASS-FINISHED BEEF
Slope Farm is seeking good, grass-finished NY State beef from beef breeds for year-round purchase.
SLOPE FARM IS:
An established producer of grass-fed beef.
Working with other producers.
Currently supplying 30 beef per month to the wholesale market.
Looking to supply a growing market and provide access to other producers.
SLOPE FARM CAN:
Offer guaranteed demand and premium pricing.
Develop long-term purchasing relationships including options for forward contracting for good, grass-finished cattle.
Add producers from the Catskills, Hudson Valley, and Finger Lakes Region.
---
CADE OFFERS
HOP ABOARD!

PROGRAM


AND VIDEO WORKSHOP SERIES
CADE'S HopAborad! program helps producers enter the hops-growing market.  With information, training, workshops, and an equipment-sharing program, we are promoting the renaissance of the local hops-growing tradition.
Want to learn more about the HopAboard! program?
Join our Hops Mailing List by contacting rebecca@cadefarms.org with "Hop Mailing List" in subject line.
Check out our hops webpage at www.cadefarms.org/HopAboard!
VISIT OUR HopAboard! PAGE FOR THE HOPS VIDEO LEARNING SERIES AND MORE!
---
 LUCKY DOG LOCAL FOOD HUB
NOW SENDING LOCAL GOODS TO NYC
TWO DAYS/ WEEK
To find out more about selling your product in NYC, contact Sonia at 914-720-1020.
To sign up for our Local Food Hub Producer email list, contact rebecca@cadefarms.org with "Local Food Hub Producer Mailing List" in the subject line of your email.
---
 New York State Council on Food Policy
(NYS CFP) and CADE Present:
The HUFED Report:
linking farmers with consumers of all incomes
at farmer's markets
This report has provided valuable information to support the development of Binghamton Farm Share (www.vinesgardens.org/farmshare), a modified CSA program that helps local farmers sell their product to consumers of all incomes while improving food access for urban consumers.
Click here to view the report!
---
CREAM OF THE CROP FROM BARN TO SHOP
CADE recently concluded its dairy value added feasibility study, THE CREAM OF THE CROP FROM BARN TO SHOP. 
The study outlines the opportunities for Catskills dairy producers to access the NYC demand for Upstate NY dairy value added products.
---